SpotHero Parking at O'Hare International Airport (ORD)
O'Hare is Chicago's largest airport. Located northwest of downtown Chicago, it serves millions of passengers per year.
Heading to O'Hare? Travel is stressful enough without having to worry about parking. SpotHero rounds up all the best parking deals near the airport and helps you compare pricing and book a reservation ahead of time.
Enter times and dates you want to park and easily search for spots near O'Hare. Simply look, book, and park. It's that easy! Reserve online or download our free parking app to book a parking spot from your phone!
Parking Rates at O'Hare
| Parking Type | SpotHero Average Price Offered |
| --- | --- |
| Covered | $6 - $24 |
| Uncovered | $6 - $20 |
| Valet | $7 - $25 |
ORD Parking vs. Rideshare
Start comparing your options by using our rideshare comparison chart. Compare the length of your trip and the driving distance to O'Hare to find the best money-saving option.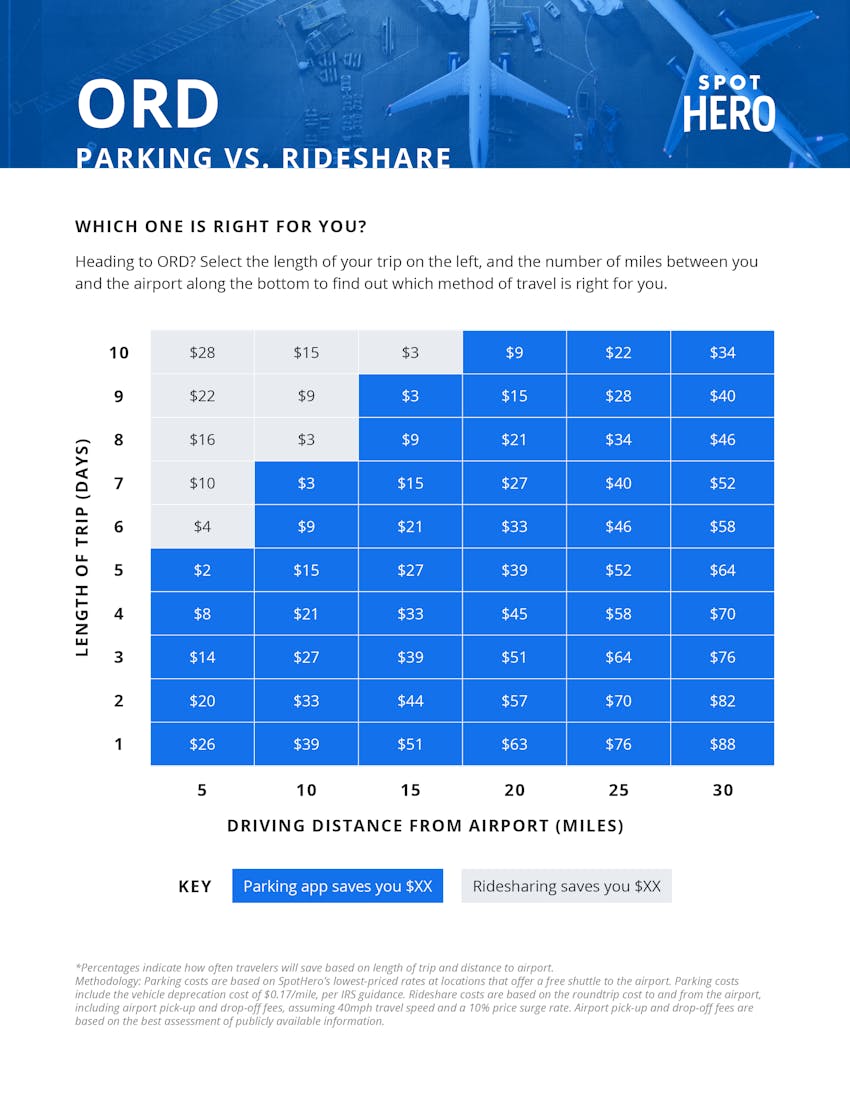 FAQs
How much is parking at O'Hare?
SpotHero lists daily rates at O'Hare from $5.75 - $24.
The official Economy Lots at O'Hare range from $15 - $22 per day.
Lots A, B, and C charge $42 per day.
International O'Hare lots charge $77 per day.
Is there long-term parking at O'Hare?
Yes! Economy Lot F offers a covered long-term parking option. Rates are listed at $22 per day.
Is there free parking at O'Hare?
There is free parking at the Cell Phone Lot, which is used to pick up or drop off passengers. All other lots and garages in the surrounding area charge an hourly or daily rate.
How does SpotHero work?
SpotHero is a parking reservation service. We partner with different facilities nationwide to provide you with tons of parking options and premium rates.
While SpotHero does not own or operate any of these locations, we do work very closely with the operators we partner with to ensure you have a seamless parking experience every time you park!
You can find answers to your most frequently asked questions here.