How SpotHero Works
SpotHero is a parking reservation service that lets you find and reserve hourly, monthly, airport, and event parking at thousands of lots and garages across North America. When you book with us you'll get an instant prepaid parking reservation, backed by the SpotHero Guarantee. We operate in 300+ major cities in the US and Canada, and we've helped park 50 million cars since 2011.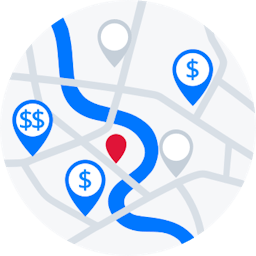 Find Parking
Find and compare prices on hourly, monthly, airport and event parking at thousand of lots and garages across North America.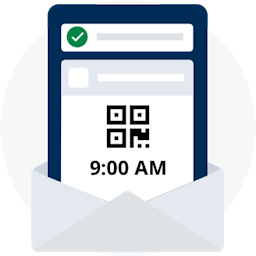 Pay and Reserve
Pay with fast guest checkout, and get a prepaid parking pass/reservation instantly via email. All reservations are backed by the SpotHero Parking Guarantee.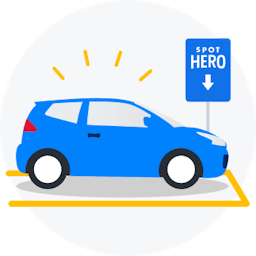 Arrive and Park
When you arrive, follow the instructions included on your pass. Typically you'll either scan a QR code, show the attendant your reservation, or add your license plate #.
Freqently Asked Questions
Are SpotHero parking reservations guaranteed?
Yes! When you book with SpotHero, we guarantee you will have a spot to park at the price you paid or your money back. While SpotHero does not physically hold a specific spot open for each reservation, we work closely with our partners to monitor inventory levels and avoid overbooking.
What is SpotHero's cancellation policy?
Reservations can be canceled up until the minute before they begin to receive a full refund via the app, website, or our self service phone system. Once a reservation has started it can't be canceled or refunded, but if you're having trouble with it, please contact our Customer Heroes for help at (844) 324-7768.
What if something goes wrong with my reservation?
Have no fear, our Customer Heroes are here! If you need assistance with your reservation, please reach out to our Hero team at (844) 324-7768, or support@spothero.com. Please have your rental ID number ready to help them quickly locate the relevant information.
Are there any additional fees?
The SpotHero price is the entire price you'll pay for a reservation, and all applicable taxes and fees are included in the price that you see at checkout! Some locations charge a separate oversize fee for vehicles that are taller than 65″ or longer than 181". If not payable at the time you make your reservation, you will need to pay that fee on-site. You'll be able to see if the spot charges an oversize fee before booking in the "spot details" section, and if you enter your vehicle make and model at checkout you can see if your vehicle is considered oversize. Potential oversize fees are also listed on the Parking Pass under "Things You Should Know."
Can I park an RV, van, or bus?
SpotHero is intended for personal vehicles only, so we cannot accept reservations for RVs, vans, or buses at this time.
Can I make a change to my parking pass after I purchase it?
Yes! You can edit or cancel any upcoming parking reservation up to the time your reservation begins, and extend most active parking reservations pending availability.
Do I have to reserve online to get this rate?
Generally, yes. SpotHero is able to offer discounts on the drive-up rates at many locations we partner with. The rate you see on SpotHero is not guaranteed without a reservation.
What if I'm purchasing a spot for an event and the event runs late?
If an event runs late, there's no need to leave early. We work with parking operators to ensure that adequate personnel and resources are available to accommodate the extended parking needs whenever possible for large events. If for some reason a parking operator is unable to accommodate an event when it runs late and you experience any issues while exiting, please don't hesitate to reach out to our Customer Hero team for support.
Will you prorate my monthly parking spot?
No, monthly parking is not prorated. If you have an extenuating circumstance, please call our Customer Heroes at (844) 324-7768.
Does my reservation provide in and out privileges?
It depends on the location. Some facilities have in and out privileges, but at this time most facilities that SpotHero partners with do not allow drivers to enter and exit multiple times during a reservation. 
Before booking, you can check the spot details in the app and on the website or use the filters on the results page to only view spots with in and out privileges. If you have already reserved a spot, you can check to see if you have in and out privileges by checking the "amenities" section of your Parking Pass. If you see "in and out allowed" you can enter and exit multiple times as long as you are within your reservation time frame!
Business Profiles
What is a Business Profile?
A Business Profile is a tool in the SpotHero app. It's designed with special features to help drivers easily manage business parking and expenses!
How do I create a Business Profile?
Business Profiles can only be set up in the app. In the app, select "Account," then under "Profiles," select "Set Up Business Profile" and follow the steps as indicated!
Can I automate receipt forwarding to my expense tool with a Business Profile?
Yes! Log into your Business Profile in "Account" in the SpotHero app. Then under "Settings" select "Expense Tools," and select the expense tool that you use at work.
Post-Purchase
How do I redeem my reservation?
All of the instructions for how to redeem your reservation can be found in the Parking Pass. Each location is different, so it's important to review your Parking Pass before you park. You can access the Parking Pass via the email confirmation that is sent to you or by logging into the app or the website. If you have any questions about the redemption process, give our Customer Heroes a call at (844) 324-7768 so we can help out right away.
Do I need to download the SpotHero app?
You don't need to, but it does make your experience easier! When logged in, the app will store all of your Parking Passes. If you don't have the app, that's ok too! You can always show your reservation by pulling your Parking Pass up from your email or bringing a printed out copy of your reservation.
Can I transfer my pass to a different location?
Reservations cannot be transferred to different locations, as rates may vary between spots. That said, if your reservation hasn't started yet, you can cancel it and book another spot at a different place!
I didn't receive / can't find my Parking Pass
You can access your Parking Pass by logging into your SpotHero account via the app or the website. You should also receive an email confirmation after booking a spot. If you have not received your Parking Pass, please give our Customer Heroes a call at (844) 324-7768 and we'll make sure you get it to the correct email address!
Billing
When will my card be charged for my reservation?
Your card is charged when you press "pay and reserve" at checkout to book your spot, rather than when the reservation starts or ends.
How do I apply credit to a reservation?
SpotHero credit will apply automatically toward your next reservation at checkout as long as you're logged in and not checking out as a guest. To view your available credit, you can visit the "Account" or "Account Settings" section of the app, available credit will be listed under your account information.
Can I sell my Parking Pass / reservation?
Selling reservations made through our site or app is a violation of our terms and conditions. If we learn you are engaging in the reselling of a parking pass/reservation, your reservation will be canceled and you will not receive a refund. Remember, you can always cancel your reservation before it begins if your plans change!
Can I use a commuter benefits card on your site?
Absolutely! Please note:
We cannot split payments between multiple credit cards, so the cost of the spot cannot exceed the value on the card.
Pre-tax cards are intended strictly for use near a work or public transit stop on the way to work.
You are only able to enter one work address and must be parked within a 1-mile radius of said office and/or public transit stop.
The IRS allows $300 / month in pre-tax parking to be used, which resets each month.
WageWorks allows up to five (5) parking reservations per 24 hours using your pre-tax card.
If you have any trouble or questions, feel free to contact our Customer Hero team for more information at (844) 324-7768.
Monthly
How does the monthly billing cycle work?
Most locations are set up with the billing cycle to be on the 1st and the 15th of every month. Some facilities do offer a flexible start date: you can start parking any day of the month you like and are billed 5 days prior to the start of the following month. Billing details are listed under "spot details" prior to purchase, and on the Parking Pass after booking.
Are there any additional fees for monthly reservations?
That depends! Some locations may require a fee for your access card or transponder, however, that will all be detailed in the description of the location before you purchase. All extra fees will be paid to the garage or lot office after purchase. Please make sure to read the description before finalizing your payment.
Package Plans
What is an Event Parking Package?
Event Parking Packages allow drivers to purchase parking for multiple events at once via a "package plan." You will be able to select from a list of event packages and then choose the facility you want to park in from among all participating facilities with available inventory!
Can I cancel my Event Package?
Yes. If you can't make it to an event or change your mind, we allow cancellations of single reservations or the entire event package, anytime before the reservation(s) start. Currently, this functionality is only available by contacting our Customer Hero team at (844) 938-3688. We are working hard to make this available online and in the SpotHero app. 
Note: This cancellation policy applies only to upcoming reservations—not reservations that have already passed.
Can I share my parking reservations with my friends and family?
Yes! While we don't currently have a formal transfer process, your confirmation email will include links to all of the parking passes in your event package. You can either forward that entire email to the person attending the event or copy and share the link/URL for a single parking reservation. They can view it in any mobile phone browser. If you share parking reservations, make sure the vehicle information on the reservation is accurate so you don't risk getting towed!
Can I change my reservation times for Event Packages?
Event parking times are set to match the approximate times of the event and generally cannot be modified. If the event runs long (for example, overtime or extra innings) all facilities that offer Event Packages will let you out with no extra charge as long as you leave right after the event has ended.