SpotHero Parking at Newark Liberty International Airport (EWR)
Heading to Newark Liberty Airport? Travel is stressful enough without having to worry about parking. SpotHero rounds up all the best parking deals near the airport and helps you compare pricing and book a reservation ahead of time.
Enter times and dates you want to park and easily search for spots near Newark Airport. Simply look, book, and park. It's that easy! Reserve online or download our free parking app to book a parking spot from your phone!
Spending some time in Newark? You can also search for parking in the city.
Parking Rates at Newark Airport
| Parking Type | SpotHero Average Price Offered |
| --- | --- |
| Covered | $14 - $25 |
| Uncovered | $5 - $25 |
| Valet | $10 - $25 |
On-Airport Newark Parking Rate
| Parking Facility | Daily Rate |
| --- | --- |
| Short-Term Lots (Terminal C Garage & Lots A & B) | $44 |
| Daily Lots (Garage P4)* | $38 |
| Economy Lot (Lots P6) | $21 (then $10.50 per 12 hours period or part thereof after 24 hours) |
| Restricted Mobility Lots | $20 |
| *Parking Lots & Rates at Newark Liberty International Airport-rates effective June 6, 2021 | |
Short-Term Parking at EWR
Lots a & B and garage C are all a quick walk to all Terminals at Newark. The daily parking rate at these facilities is $44 per day. CAs of June 1, 2021, cash is no longer accepted at these facilities. Payments can be made with Credit or Debit Card, E-ZPass Plus, Contactless Payment, or can be reserved in advance online.
Daily Parking at EWR
You can reserve Daily Parking at Newark in the P4 Garage. The garage is covered and accessible from the AirTrain, which is about a 10 minute ride to all terminals. The daily max in this garage is $38 per day.
Long-Term Parking at Newark
Long-term parking is recommended in the P6 Economy Lot. Parking is $21 per day, then $10.50 per 12-hour increment. The P6 lot provides a bus link to all terminals that runs approximately every 10 minutes and is about a 20-minute ride to the terminal. In the economy lot, you can book a Premium Economy space closest to the bus pickup location, or save a few bucks and park in the regular economy spaces. Check the status of the Economy Lot bus here.
Newark Airport Parking vs. Rideshare
Start comparing your options by using our rideshare comparison chart. Compare the length of your trip and the driving distance to Newark Liberty Airport to find the best money-saving option.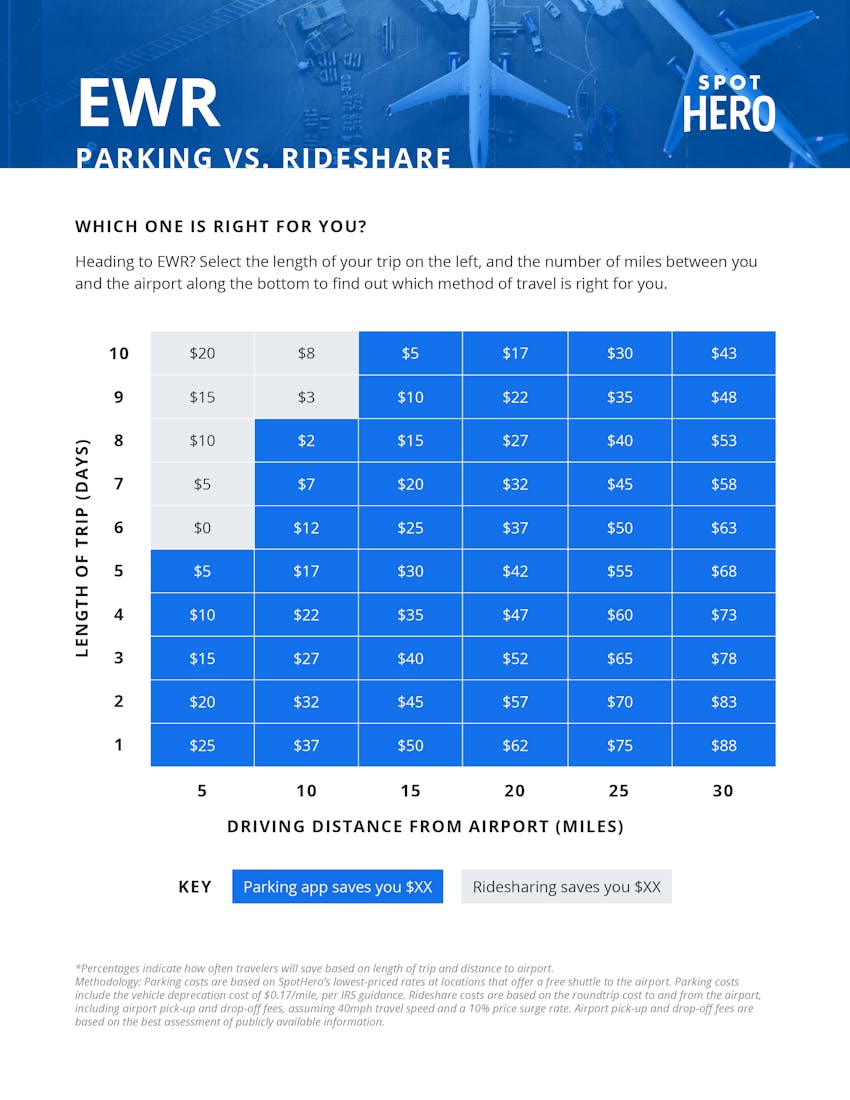 FAQs
How much is parking at Newark Liberty Airport?
SpotHero lists daily parking rates from $14.75 - $26.25 per day.
Does Newark Airport have long-term parking?
Long-term parking at Newark Airport charges $21 per day for the Economy Lot, $38 per day for the Daily Lot, and $44 per day for Short Term Lots. SpotHero rates start at $8.75 per day.
How does SpotHero work?
SpotHero is a parking reservation service. We partner with different facilities nationwide to provide you with tons of parking options and premium rates.
While SpotHero does not own or operate any of these locations, we do work very closely with the operators we partner with to ensure you have a seamless parking experience every time you park!
You can find answers to your most frequently asked questions here.