SpotHero Parking at San Francisco International Airport (SFO)
Heading to the airport? Travel is stressful enough without having to worry about parking. SpotHero rounds up all the best parking deals near the airport and helps you compare pricing and book a reservation ahead of time.
Enter times and dates you want to park and easily search for spots near SFO. Simply look, book, and park. It's that easy! Reserve online or download our free parking app to book a parking spot from your phone!
Parking Rates at SFO
| Parking Type | SpotHero Average Price Offered |
| --- | --- |
| Uncovered | $6 - $27 |
| Valet | $15 |
SFO Parking vs. Rideshare
Start comparing your options by using our rideshare comparison chart. Compare the length of your trip and the driving distance to SFO to find the best money-saving option.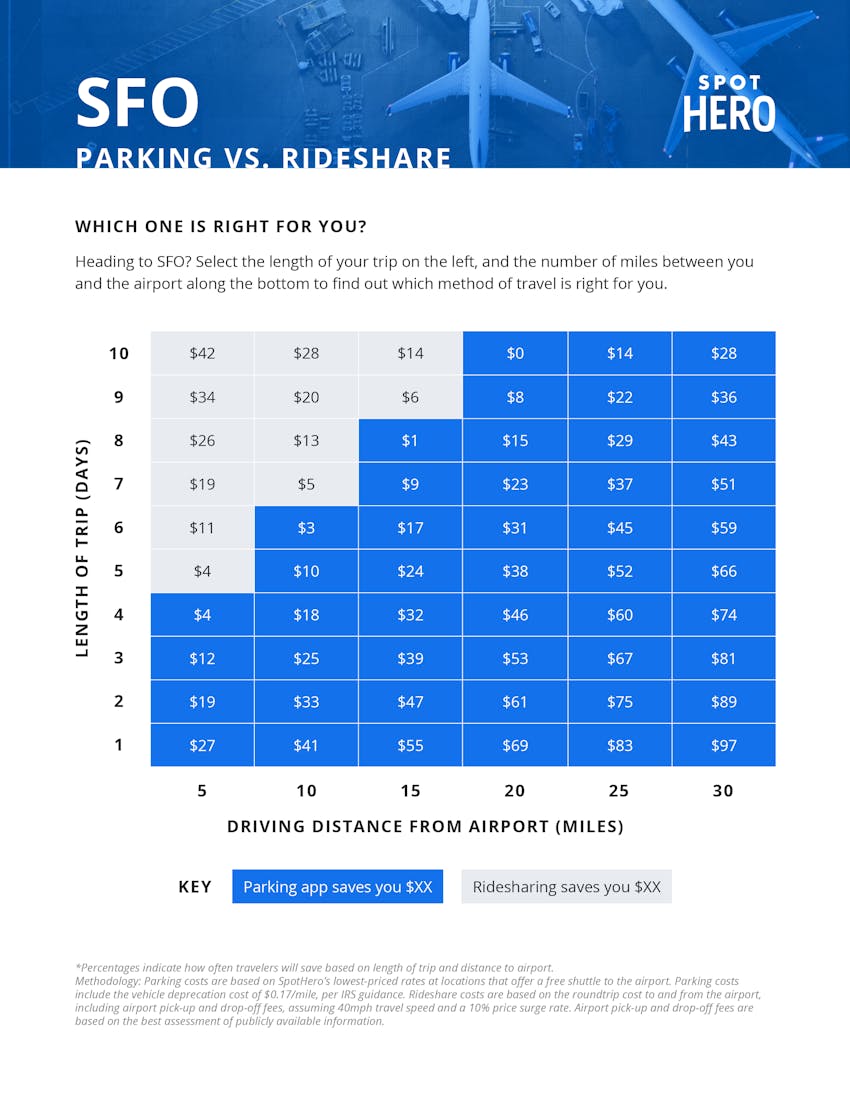 FAQs
How much is parking at San Francisco International Airport (SFO)?
Parking rates at San Francisco Airport vary. The Domestic Garage rates are $36 per 24 hours and $2 per 15 minutes. International Garages A and G are $36 per 24 hours and $2 per 15 minutes. Long-Term Garages are $18 per 24 hours and $2 per 15 minutes. ParkVALET is $45 per 24 hours and $2 per 15 minutes after 24 hours. 
Is there long-term parking at San Francisco International Airport (SFO)?
SFO has long-term parking with rates around $18 per day. The Long-Term Parking Garage offers express entry and exit options and shuttle service that runs every 5 to 15 minutes. The pick-up shuttle location is at the center island at Terminals 1, 3, and International Terminal on the Departure Level.
Is there free parking at SFO?
There are two free parking lots, however these lots are for drop-off and pick-up only. These lots are the Cell Phone Waiting Lot and the Kiss & Fly lot. The Cell Phone Waiting Lot at a 60 minute wait limit. 
Should I park in short-term or long-term parking at SFO?
If you plan to park for less than 24-48 hours, short-term parking is ideal. If your trip is several days then long-term parking is the better choice. 
Is there electric vehicle parking at SFO?
Electric Vehicle Charging (EVC) stations are available in all SFO Garages. These include Long-Term Garage 1 & 2, International Garage G & A, and Domestic Garage G. The spots are labeled "Green Vehicle Parking". Charging your vehicle is free of charge. There are Level 1 and 2 charging stations available. These spots are first-come, first-serve. For the Level 1 charge you have to have your own connection cable. 
How does SpotHero work?
SpotHero is a parking reservation service. We partner with different facilities nationwide to provide you with tons of parking options and premium rates.
While SpotHero does not own or operate any of these locations, we do work very closely with the operators we partner with to ensure you have a seamless parking experience every time you park!
You can find answers to your most frequently asked questions here.