Parking in the Wake of COVID-19
The $131 billion parking industry is a vital part of the nation's infrastructure in moving goods, services and people throughout the economy. More than 1 million jobs depend on parking across public, private professionals and industry suppliers.
As the COVID-19 pandemic continues to wreak havoc on industries across the globe, SpotHero is closely monitoring the demand for parking across more than 7,500 partner locations in cities in North America. With up to 90% losses in parking volume, much like airlines and airports—the parking industry is devastated by a collapse in demand and job losses and furloughs for 50% of the industry's workforce. Many are front-line hourly workers.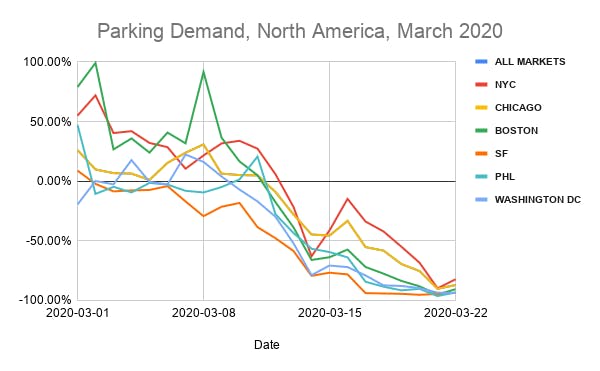 The National Parking Association has asked Congress for a $5 billion stimulus infusion for the parking industry, declaring parking essential infrastructure to help safeguard workers' pay and safeguard businesses against bankruptcy, lease and loan defaults. This combination of grants and loans is intended to ensure that parking can survive to help our communities in the recovery.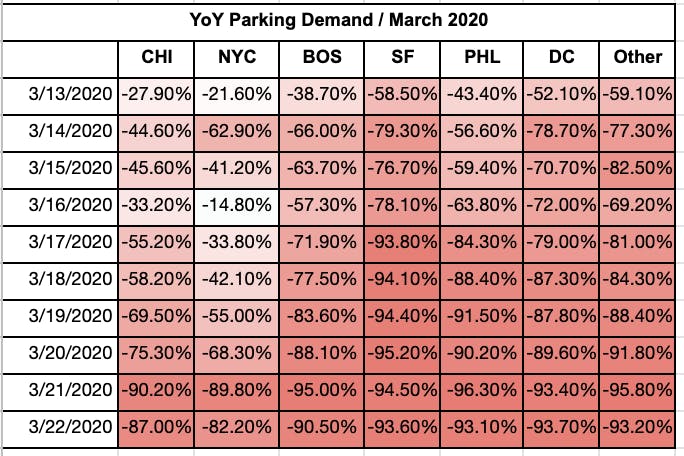 In support of our partners across the parking industry, we ask you to write your representatives and let them know that parking is a critical component of the communities they serve. To find contact information for your congressional representatives, visit https://www.house.gov/representatives.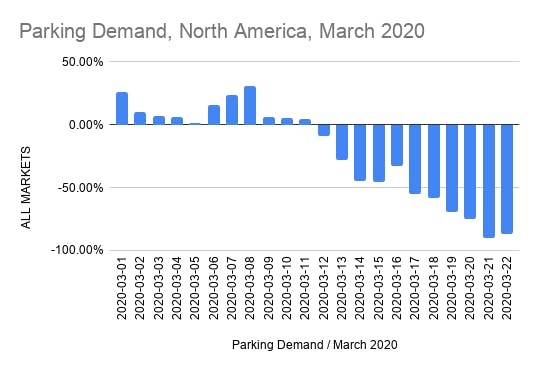 About the data
This data shows year-over-year parking transactions booked using SpotHero's mobile app and website. For year-over-year comparisons by day, we compare to the same date from the previous year.
About SpotHero
SpotHero is the digital parking leader and the largest place to buy and sell parking in North America. Millions of drivers use SpotHero's mobile apps and website to find, book and access off-street parking in 7,000 locations across 300 cities. Leading mobility companies use the SpotHero developer platform to power seamless parking at scale for fleets, connected cars, and urban mobility solutions.