SpotHero Hires New Chief Technology Officer
Leading parking app in North America doubles down on commitment to technology to make parking more convenient and digitized by hiring proven technology innovator.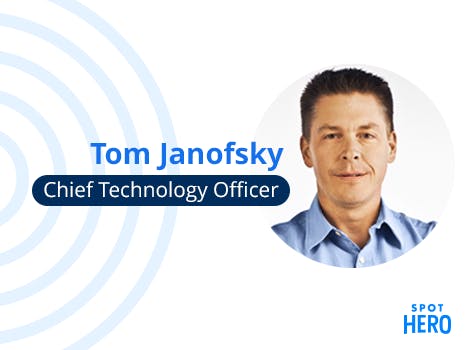 Chicago– May 1, 2023 –  SpotHero, the leading parking reservation marketplace in North America, announced Tom Janofsky as its new Chief Technology Officer. The announcement comes as SpotHero continues to utilize and develop cutting-edge technology to further digitize the multi-billion-dollar parking industry.
"We're very excited for Tom to join the SpotHero team," said SpotHero CEO and co-founder Mark Lawrence. "Tom has a distinguished track record of success in the technology space, and as a leader who is driven by innovation, mentorship and results, I'm confident Tom will help us continue to drive SpotHero – and the parking industry – forward to make parking better for drivers and operator partners."
Tom has more than 20 years of experience building and operating research and development organizations, and has played a significant role in helping startup companies grow from initial seed funding, through scale-up stages and beyond. Throughout his career, Tom has focused on building highly productive teams by focusing on people – emphasizing talent evaluation, recruiting, employee development and employee empowerment.   
"I'm very excited to join the SpotHero team and immediately get to work," said Janofsky, whose official start date as SpotHero's Chief Technology Officer is May 1. "SpotHero is in a unique position as both an industry leader and an industry disruptor thanks to its continued focus on developing and implementing innovative technology." 
Janofsky joins SpotHero shortly after the company released its 2023 State of Parking Report, which revealed SpotHero's unique insights into parking patterns and behaviors in cities and segments across the U.S. and Canada. SpotHero continues to provide value by offering filters that allow drivers to search for EV-compatible parking spaces, as well as new features like its new Scan2Pay technology that makes it easier than ever before to book parking on-the-go.
"As SpotHero continues to digitize the parking industry and create a more efficient parking marketplace, it's an exciting time to be part of the transportation and mobility categories. I can't wait to see where we will go next," stated Janofsky.
For more information on SpotHero, please visit spothero.com.
About SpotHero 
SpotHero is the leading parking reservation marketplace in North America with over $1 billion in parking reservations sold. Millions of drivers use SpotHero's mobile apps and website to find, book and access off-street parking in more than 8,000 locations in over 300 cities in the U.S. and Canada. Leading operator partners leverage SpotHero's machine learning-powered dynamic pricing platform SpotHero IQ to power data-driven decisions. For more information, visit  SpotHero.com.
####