LGBTQ+ ERG
SpotHero has Pride: June Reflection from our LGBTQ+ ERG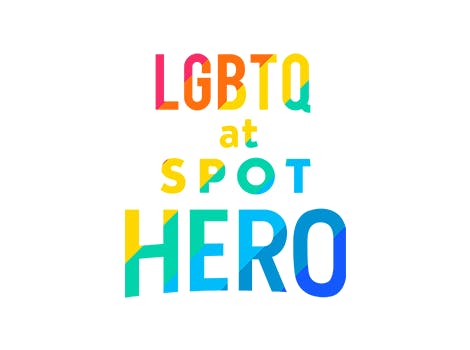 As Pride month comes to a close, we want to reflect as a company on one of our Employee Resource Groups dedicated to LGBTQ+ employees and allies. June 2020 included a big win for LGBTQ+ individuals everywhere, with a landmark ruling from the U.S. Supreme Court that LGBTQ workers are protected from job discrimination, citing the Civil Rights Act of 1964 which protects people against discrimination based on many factors, such as gender identity, sexual orientation, and transgender status.
This Pride month was much different than usual, with in-person celebrations across the world being canceled due to the ongoing pandemic. But, here at SpotHero, the LGBTQ+ ERG hosted a handful of virtual events to encourage the company to show its pride while working from home.
Pride Events
Kicking off the month, the LGBTQ+ ERG members hosted a watch party to view the series Pose on FX. The series encompasses New York City's underground ballroom culture of the African-American and Latino LGBTQ+ communities in the 1980s. The series explores topics such as the HIV and AIDS epidemic to discrimination against trans people.
The LGBTQ+ ERG also co-hosted an event with our Women's ERG to participate in this year's virtual Lesbians Who Tech Pride Summit. The Pride Summit covers a variety of topics in the LGBTQ+ community that cater to women, non-binary, and trans individuals in the tech space (and allies of course). Event speakers are 80% queer women, 50% women of color, 25% Black & Latinx, and 15% transgender and gender non-conforming. The keynote discussion was led by Angelica Ross who is an Actor, Writer, Producer, and Founder of Trans Tech Social and focused on the roles of trans folks in the Black Lives Matter movement, tech industry, and racial justice activism.
Finally, the LGBTQ+ ERG hosted the Show Your Pride event internally to let our coworkers show what makes them proud to be them. Employees in our LGBTQ+ ERG and allies alike shared photos of their significant others, families, and even pets decked out in rainbow accessories.
LGBTQ+ ERG
As part of Pride month, SpotHero wanted to highlight the LGBTQ+ ERG leader Grant Nicholas and what the group means to him.
What mentoring and team-building opportunities are available through the ERG? How have these opportunities impacted you?
During coronavirus, there aren't many team-building opportunities and it is hard to stay in touch with coworkers who work in other parts of the business. I appreciate that the LGBTQ+ ERG meetings give me a chance to connect with other people at SpotHero and talk about a common interest. The ERG meetings have personally helped me feel a little bit more normal in these weird times.
What opportunities has SpotHero given you to grow/ educate others about your ERG? (ie. Lunch & Learns, email newsletters, etc.)
I think the "Lesbians Who Tech" watch party, where we watched talks from a queer tech conference online and then talked as a group about what we learned, was a great opportunity to learn more and grow. The LGBTQ+ ERG teamed up with the Women's ERG and co-hosted the event together. We watched the keynote from the amazing Angelica Ross. Angelica talked about a wide swath of things like Black Lives Matter, trans people in the tech community, and LGBTQ+ representation in tv and film. I really appreciated having the breakout discussions afterward as it let me get the perspective of others from the Women's ERG and it sparked good conversation.
What is your favorite event the LGBTQ+ ERG has hosted? If not applicable, maybe a future event idea you have in the works.
My favorite event was the "Show Your Pride" event that Alexandra organized (thanks Alexandra!). The event asked people at SpotHero to post a picture about what makes them proud. I loved that we got such different submissions from a wide variety of people. Some people posted cute pictures of rainbow things in support of Pride month while others posted pictures of their family members and loved ones.
What is the importance of allies to your ERG? What can others do to help support your ERG and spread your mission/ message?
Allies help foster community belonging and make people feel supported. Allies help educate others. Allies help amplify LGBTQ+ voices. We always encourage allies to come and to our ERG meetings and we would love to have more. Stay tuned for a special LGBTQ+ ERG "ally" meeting coming later this year.
More Resources
SpotHero employees can utilize our internal message boards to share articles and resources about diversity efforts in the workplace and the world around us. If you are wanting to share ideas with your colleagues or your company's human resources, or just become a better-informed ally, check out these articles on how you can better support your LGBTQ+ colleagues and friends.
4 Ways to Make Your Workplace More Equitable for Trans People | NPR
The Right Way to Use Gender Pronouns at Work | Oprah Mag
The most powerful LGBTQ+ people in tech | Business Insider
How to be truly inclusive of non-binary genders at work | BBC
Ways You Can Support the Black LGBTQ+ Community | The Cut
An Ally's Guide to Terminology | GLAAD
5 Ways Parents can talk to kids about LGBTQ identity | Mashable