SpotHero Promotes Paolo Lorenzoni to Chief Business Officer
Consumer Marketplace Veteran Will Steward SpotHero's Next Growth Phase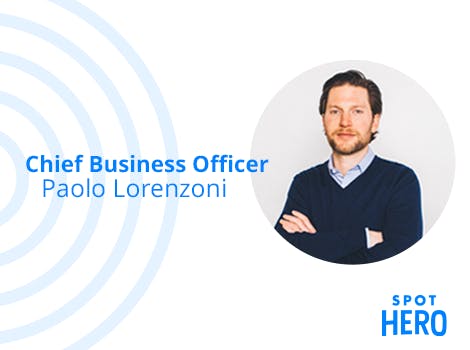 CHICAGO — JANUARY 12, 2023 — SpotHero, the digital parking leader in North America, today announced the promotion of Paolo Lorenzoni to Chief Business Officer. Lorenzoni joined SpotHero in 2019 as Vice President, Verticals. Since then, he has led and scaled key parts of SpotHero's businesses, including its dynamic pricing tool SpotHero IQ and partnership with Lyft. As Chief Business Officer, Lorenzoni will manage topline revenue and performance to plan across the organization. 
"Paolo's leadership has been integral in growing and diversifying SpotHero's business," said SpotHero co-founder and CEO Mark Lawrence. "As our Chief Business Officer, Paolo will push  SpotHero further toward our mission to make digital parking the consumer norm." 
In his prior SpotHero roles as Vice President, Verticals and Senior Vice President, New & Emerging Business Lines, Lorenzoni kept SpotHero focused on areas of the business that exceeded growth beyond pre-COVID numbers. Namely, he honed in on the Airports and Events verticals, knowing there would be strong consumer demand after lockdowns eased. This focus led SpotHero to become the category leader, surpassing $1B in parking reservations sold in 2022. 
Lorenzoni brings a wealth of consumer marketplace experience to his new role. Prior to joining SpotHero, he was part of the founding team at Uber Eats. With new partnerships with Lyft and Apple Maps, Lorenzoni is positioned to scale SpotHero to its next phase of growth. 
About SpotHero
SpotHero is the digital parking leader and only independent off-street parking marketplace in North America. Millions of drivers use SpotHero's mobile apps and website to find, book and access off-street parking in over 8,00 locations across 300 cities in the U.S. and Canada. Leading operator partners leverage SpotHero's AI-powered dynamic pricing platform SpotHero IQ to power data-driven decisions. For more information, visit SpotHero.com.