SpotHero Parking at Denver International Airport (DEN)
The bustling Denver airport sees quite a bit of traffic, with a reported 69 million passengers traveling through in 2022. Heading to the Denver airport? Parking at the airport can be a cost-effective way to travel. SpotHero finds the best parking deals near the airport, lets you compare pricing, and book a reservation ahead of time. Easily filter spots by lowest price, distance to the airport, or shuttle availability.
Simply enter the dates you want to park and search for parking facilities near Denver International Airport. Reserve online or download our free parking app to book and manage your parking reservation from your phone! Last-minute flight cancellation? You can cancel your reservation for free up to the minute before your reservation begins.
Parking Rates at Denver Airport
| Parking Type | SpotHero Average Price Offered |
| --- | --- |
| Uncovered | $12.40 |
| Covered | $17.75 |
| Valet | $17.80 |
Denver Airport Parking vs. Rideshare
Driving to the airport can help you avoid surge charges or additional costs that come from rideshare services. Start comparing your options by using our rideshare comparison chart! Compare the length of your trip and the driving distance to the Denver Airport to find your best money-saving option.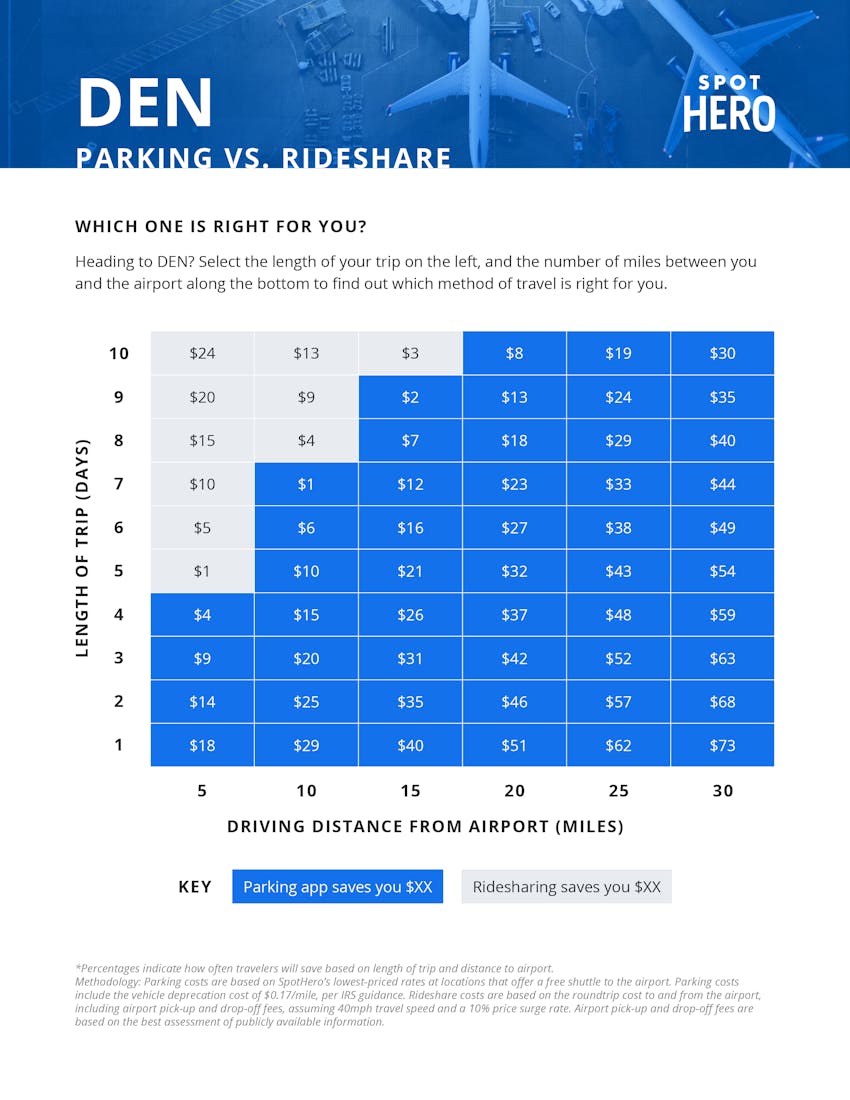 FAQs
How much does it cost to park at the airport in Denver?
SpotHero's average price at the Denver airport is $13 per day.
What is the cheapest parking in Denver Airport?
The Pikes Peak Lot and the Mt. Elbert Lot both charge $8 per day for parking. The cheapest daily parking spot on SpotHero is at the Aloft Hotel. Rates here begin at $3.95/day.
Is there long-term parking at Denver International Airport?
Yes, there are several on-site and off-site options when choosing long-term parking at Denver International Airport.
How much does it cost to leave your car at the Denver Airport for a week?
The Pikes Peak Lot and the Mt. Elbert Lot both charge $56 + taxes and fees for a week of parking. You can find parking on SpotHero for as little as $40 per week (taxes and fees apply).
How does SpotHero work?
SpotHero is a parking reservation service. We partner with different facilities across North America to provide you with parking options at premium rates.
While SpotHero does not own or operate any of these locations, we do work very closely with the operators we partner with to ensure you have a seamless parking experience!
You can find answers to your most frequently asked questions here.